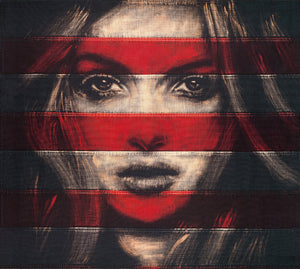 A popular and iconic print.
Edition of 50
Giclee with screen print glosses.
64 x 71.5cm
330gsm Somerset Velvet Paper
Hand deckled and inked edge
Beautifully printed by master fine art print-makers Harwood King.

Wild Love, named after the song by The Doors, is a limited edition of only 50, with a hand deckled edge. Printed on Somerset Velvet 330gsm 100% cotton rag paper. The detail of the print picks out every warp, weft and stitch in the vintage American  flag.

….My wild love went ridin'
She rode to the sea
She gathered together
Some shells for her hair
She rode and she rode on
She rode for a while
Then stopped for an evenin'
And lay her head down...
The Doors 1968'

Torn to the edge, with hand deckled & inked edge

Signed and numbered by the artist.

This large format print has screen printed gloss so it subtly shimmers!