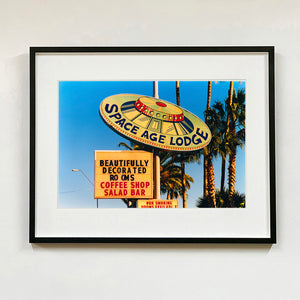 'Space Age Lodge, Gila Bend, Arizona, 2001'- Richard Heeps. 
Richard Heeps' seductive, highly saturated colours and sophisticated pictorial structures demonstrate a true love and empathy for his subject matter - be it cool descriptive interiors, still life or landscape. His distinctive style pushes the limits of lens-based photography without the need for digital manipulation.Richard works from his home studio and dark room in Cambridge.
Although he was brought up in the UK, Heeps is heavily influenced by America. He says "I visited American bases, I kept magazine cuttings and I followed drag racing. The speed, lifestyle and technicolour is reflected in my imagery. 'American' colour is a major aspect in my work, it drives my equipment and material choices". 
No 3/25.

This artwork is a limited edition gloss photographic print, dry-mounted to aluminium, presented in a museum board white window mount and a black box frame made professionally in the UK. It is signed and numbered on reverse accompanied by a certificate of authenticity.
60 x 77cm.
Edition of 25.
Also available with Own Art, interest free over 10 months. If youd like to purchase via Own Art please email info@paxtonglew.com with your full name, mobile number and Postcode and we will be in touch.