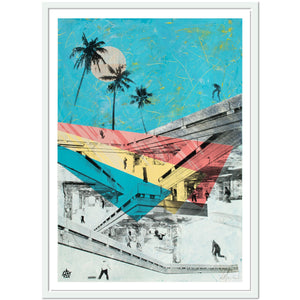 On the Corner by Anil Mistry.
Featuring original photography of the skaters at the Undercroft Skate Space on the South Bank in London. A home for skateboarders and grafitti artists for over 40 years and I wanted to create a piece that reflected the chaos and angular architecture of his famous landmark.
50x70cm – Ltd Edition of 30, Giclée print on Hahnemuhle UltraSmooth paper.