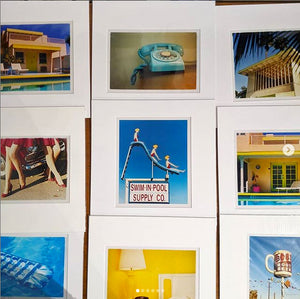 Hand Printed Photograph, board backed.
Richard Heeps' seductive, highly saturated colours and sophisticated pictorial structures demonstrate a true love and empathy for his subject matter - be it cool descriptive interiors, still life or landscape. His distinctive style pushes the limits of lens-based photography without the need for digital manipulation.Richard works from his home studio and dark room in Cambridge.
Although he was brought up in the UK, Heeps is heavily influenced by America. He says "I visited American bases, I kept magazine cuttings and I followed drag racing. The speed, lifestyle and technicolour is reflected in my imagery. 'American' colour is a major aspect in my work, it drives my equipment and material choices". 

Each measures 38 x 38 cm.

Each is numbered.
Comes with a certificate of authenticity.
Please contact the gallery for options.