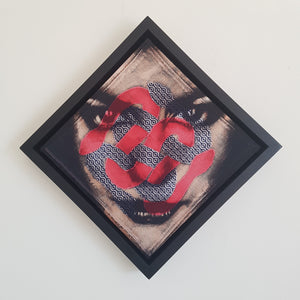 37 x 37 x 5.3cm

Bleaching technique and dye on serpent knot appliqued textile, made from Japanese cotton and linen.
Black tray frame.
Muse: Audrey Tautou

The woven serpent applique reflects Old Norse knot designs, and illustrates the dangerous side to the goddess of sex, fertility, war and wealth. Made with red linen, Japanese textiles and natural linen, the motif of an interlocking snake is both a symbol of danger and union.
Ready to hang.
Pam Glew, co-curator of Paxton + Glew, is a mixed media painter and printmaker. She has shown internationally in solo shows from London to Sydney and has exhibited at Dallas Contemporary and Honolulu Museum of Art. Pam has produced commissions for Armani, MTV, and Microsoft and her work is housed at Saatchi & Saatchi London, Mitsubishi Bank, and in collections worldwide.