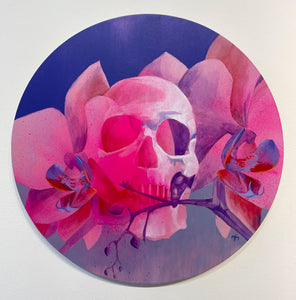 MISHFIT
If Not Now?
From Mishfit's new "Memento Vivere" collection, inspired by the memento mori and vanitas works of the Old Masters, this surreal botanical painting serves as a vibrant wake-up call to make the most of life and not sweat the small stuff.
Depicting an ethereal skull, entwined in a halo of graceful Orchids, which are auspicious in many cultures and often associated with love, luxury, beauty and strength.
Artist: MISHFIT
Oil paint on a mixed media background of acrylic & spray paint, on circular wooden panel, cradled and ready to hang.
40cm x 40cm 
Price - £420