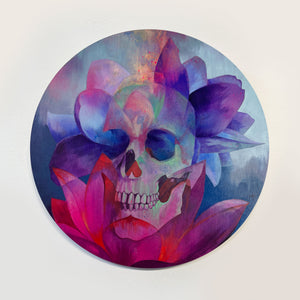 MISHFIT
Bloom 
Original Painting.
40cm x 40cm.
Oil paint on a mixed media background of acrylic & spray paint, on a circular wooden panel, cradled and ready to hang.
From Mishfit's new "Memento Vivere" collection, inspired by the memento mori and vanitas works of the Old Masters, this surreal botanical skull painting serves as a vibrant wake-up call to make the most of life and not sweat the small stuff.
An ethereal skull emerges from an explosion of magnolia and lotus flowers, which are auspicious in many cultures and often associated with rebirth and beauty, enlightenment.