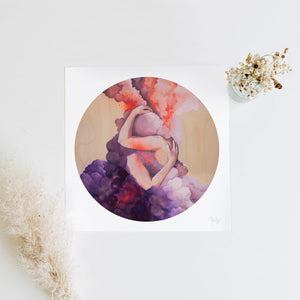 A3 Square Giclée print.
Limited edition of 25. Signed, numbered & emboss stamped by the artist
Printed with archival quality inks on sublime 310gsm Hahnemühle German Etching paper, giving the print a subtle texture that enhances the visible brushstrokes. Taken from the original oil painting of the same name.
Inspired by the separation and isolation we all experienced over the pandemic, this collection of new paintings from UK contemporary urban artist Mishfit strives to capture those lost moments of human contact and connection.
Mishfit occupies the hinterland between street art and fine art painting. An active part of UK street art for over 15 years, she was at the forefront of this burgeoning scene as it exploded into the general public's consciousness as a valid Art form for the first time. Often one of the few female artists on roster, she has since painted internationally from the streets of Melbourne to Europe's biggest street art festival, Upfest.

Her most recent foray into the world of London art fairs follows follows an incredible array of live painting venues over the years, including a giant squat in Amsterdam's docklands, an Icebreaker ship, Music festivals Glade, Boomtown and Latitude, and perhaps most chillingly, the walls of Hellingly, an abandoned psychiatric hospital and county asylum that has since been demolished.

From her studio in Brighton, she is now embracing a more refined approach, combining spray paint and oil paint, to create an energetic style that captures the raw process of creativity. Clashing traditional methods with a fresh contemporary urban art edge.

Inspired by the forces of nature, and a deep sense of wanderlust, her work explores the commonalities that make us human. Developing a visual language of dreamlike luminous cloudscapes as a metaphor for human emotion. Sometimes interwoven with obscured figurative elements, she creates poignant, exuberant paintings which celebrate the commonalities that make us human. Harnessing our primal human connection to colour and cloud formations, triggering emotional responses and providing a mirror to the viewer's own experiences, fears, hopes and dreams.