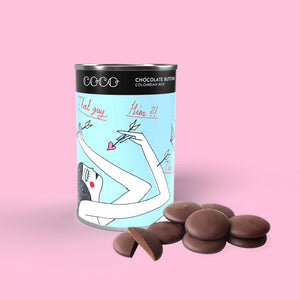 About this product
This modern tin designed by David Bray contains 180 g of large single origin chocolate milk buttons made of the finest Colombian cacao. Cocoa Origin: Colombia. Artist: David Bray. Net Weight: 180g. Certifications: Vegetarian, No Gluten containing ingredients, Palm Oil Free, Free from artificial colours and flavours.
Details
• Made in United Kingdom • Ingredients: Sugar, Cocoa Butter, Cocoa Mass, Milk Powder (14.5%), Emulsifier: Non-GMO Soya Lecithin, Natural Vanilla Flavour. Contains Milk, Soya.
May contain traces of peanuts, nuts and gluten.
Product Language: Dutch, English, French, and German
Dimensions: 10.5 x 7.4 x 7.4 cm (4.1 x 2.9 x 2.9 in)
Ingredients
Contains: Milk and Soy
Eco-friendly information
Product Materials: Nontoxic, Plastic-free
Production: Cruelty-free, Ethically sourced