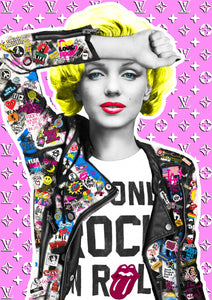 The Postman, Brighton's street artist duo have a passion for photography, iconic imagery and pop culture. Their work began on the streets as paste ups and they now also work on large-scale murals, original artworks, and prints using stencils, collage, and spray paint. GP (Gallery proof).
Giclee Print

Artist's proof hand finished with paint splatters on paper
Framed £295 / 225 unframed.
A2 size.
Note: Unframed is available to order, please allow 14 days for despatch.