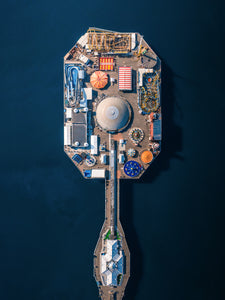 Lollipop Day
Date: August 2021
Medium: Photography,
Limited edition of 40, HAHNEMÜHLE GERMAN ETCHING 310gsm
Image size 585x390mm
Mounted size  500x700 mm

£195 unframed mounted size 500x700 mm.
Description:

"Lollipop" was photographed by Jack Parker 400ft above the iconic Brighton Palace Pier at sunrise.

Jack Parker is a multi-disciplinary artist working in the mediums of photography, film, and theatre. Jack trained at the Royal Central School of Speech and Drama and has worked as an actor, movement performer and creator in West End shows and feature films. Originally from Cornwall, Jack now lives and works in Brighton. He has a lifelong affinity with boats and coastal landscapes which often feature in his images.
Through heightened structure and colour, Jack's photographic work aims to accentuate and clarify the inherent stories of his subjects. He is excited by aerial photography, using drones to find unique perspectives on the world.