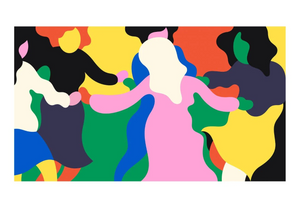 The Dance 
Screenprint and giclée print is from a limited edition of 30, signed and numbered by the artist.
Contemporary street artist, Lee Eelus is known for his vivid prints and murals. His art is a celebration of the vibrancy of the human spirit.
The Dance was created initially as a mural painted in Brighton as part of the city's Enliven Brighton Art Trail, which is a stones throw from the gallery.
The piece explores kindness, community and the joyous power of self-acceptance.