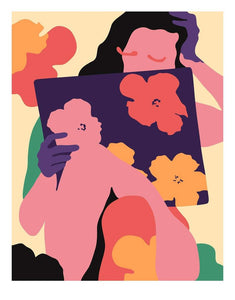 Dreaming Of Andy is a giclee print with a varnish overlay by artist Lee Eelus.
From an edition of 100, printed on Somerset Satin Enhanced 330gsm paper with a deckled edge, the piece is signed 'AP' by the artist.
43 x 55 cm
Combining seemingly disparate elements from a wide range of found imagery, Lee Eelus's strange and colourful visual language is an insight into his neurodivergent thinking. His studio practice becoming a form of therapy as he searches for a sense of balance through his use of colour and composition that he applies to prints, paintings, murals and 3D work.
He's painted and exhibited worldwide alongside key figures within the urban contemporary movement, the desirability of his work evident in the success of his solo exhibitions and sell-out print editions. Lee Eelus currently lives in Brighton, UK.