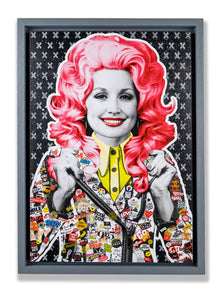 Dolly - URBAN REBELS - Box Frame
A brand new unpublished artwork of Dolly Parton rocking a leather jacket. This should be rocking your wall 9-5 - excuse the pun.

This is a completely unique, handmade mixed media piece consisting of a giclee pasteup, on a stencilled and spray painted wooden canvas and has a protective UV varnish coating to ensure lasting colour intensity.
It sits inside a handmade hardwood box frame with sprayed edges both on the frame and the board inside it allowing for a floating, layered effect. 


Pasteup on Wooden Canvas
Stencil Spraypaint Background
Hand Sprayed Box Frame
UV Varnished
Size - 65 x 50 cm
Edition 1/1
Signed with COA