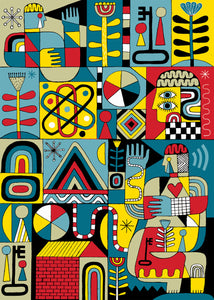 'Nuclear Love' screen print - David Shillinglaw. 
Framed float mounted in white.
50cm x 70cm screen print on Somerset 300gsm satin paper.
7 colour screen print.
Signed and numbered.
Edition of 50.
David's folk inspired work depicts human faces, eyes, charachters and other mystical symbols. Often combined together in bright colours to create a psychedelic visual treat . Done in epic scales, wrapping buildings and walls around the world – His murals bring together the same sense of joy, adventure and curiosity that can be seen surrounding Davids life.
These re-occurring motifs can be seen throughout his practise. He believes the head to be the most important part of the body because "everything happens there" and that the eyes are the windows to the soul. Brought together with other seemingly random words and symbols Davids paintings provide a unique and glorious vision of our world.