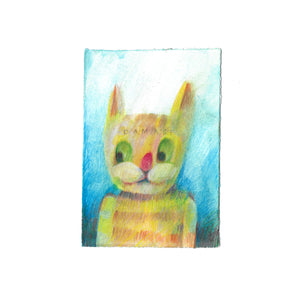 David Bray - Damage.
Pencil on Paper 2023.
Unframed size: 14 x 10 cm.
Framed size: 23 x 18 cm.
David has been working as an illustrator since his graduation from Central St. Martins London in 1992 with a degree in Graphic Design. Commercial clients include such brands as Agent Provocateur, Puma, Absolut, MTV, BBC Television, Harvey Nichols, Canon and Vodafone. His collaboration with photographer Tim Bret Day for the Harvey Nichols campaign, HN on Earth is in the permanent poster collection at the Louvre, Paris. He has been exhibiting as an artist since 2006, with solo shows in London and Los Angeles.