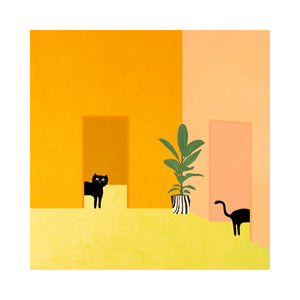 Julia Nala
Purring Through
Fine Art Giclee Print on Hahnemühle Photo Rag 308 gsm.
Size: 50 x 50 cm
Limited Edition of 50

Julia Nala is a 25 year old collage artist and photographer born in Austria, Vienna and currently residing in Brighton, UK.
She began experimenting with collaging in 2020 during the first UK lockdown, she uses a mixture of analogue and digital techniques in her work and enjoys working with bright and vibrant colours. 
Julia likes to create new worlds from her imagination and uses surreal elements in her work to help the recipient get lost in her art and escape reality in their day to day life.