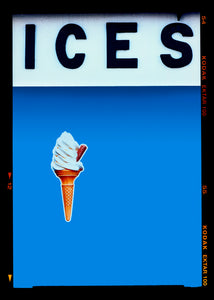 'Ices Sky Blue' - Richard Heeps. 
Photographed at Bexhill-on-Sea.
On one hand it's about the joys of the British seaside, the iconic ice cream cone, it's incredibly simple but on the somehow its created a conceptual piece of art, the ice cream cone suspended on a yellow background with the bold graphic typography. Richard Heeps describes how the photo came about "I originally saw this in August 2018, I returned with my camera in September 2020, very relieved to capture it on film."

'Ices Blue' became Richard's bestselling artwork in 2021 and due to requests it has been released in a range of colour-ways.
Richard Heeps' seductive, highly saturated colours and sophisticated pictorial structures demonstrate a true love and empathy for his subject matter - be it cool descriptive interiors, still life or landscape. His distinctive style pushes the limits of lens-based photography without the need for digital manipulation.Richard works from his home studio and dark room in Cambridge. 

This artwork is a limited edition gloss photographic print, dry-mounted to aluminium, presented in a museum board white window mount and a black box frame made professionally in the UK. It is signed and numbered on reverse accompanied by a certificate of authenticity.

Viewing on screen can affect the true to life colours and tones.
6/25.
Photographic print.
Signed and numbered.
Note: Framed in Black.

77x60cm Framed size.