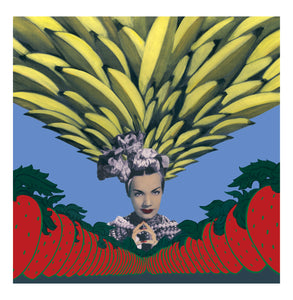 Shuby - Carmen With Strawberries
Giclee, 300g paper, edition of 50, 2012, 600 x 600mm print size.
Framed in Black.
Signed and dated by artist
Shuby is an artist and print maker based in St Leonards-on-Sea, East Sussex. She uses print, collage, paint and photography to create original reinterpretations that revel in absurdity, kitsch and irony. Shuby has pasted her collaged posters in destinations such as New York and Berlin. Her banana and bunny motifs have become a naughty yet innocent calling card, instantly recognisable and humourous.