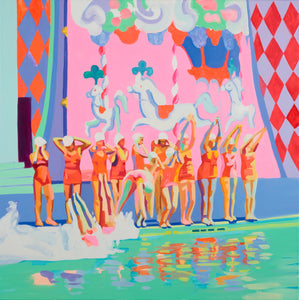 70 x 70 cm print edition 
Artist Proof 
One off AP - not available as an edition in this large size.
'HEARTS' is a stunning new one off print by British born artist Ruth Mulvie.

Ruth Mulvie creates artworks of striking graphic quality. Fine art trained, Mulvie's work is infused with a heightened sense of colour, and strong exciting iconography. Ruth Mulvie returns time and time again to vintage iconography and creates her own version of Contemporary pop.
THE USE OF BOLD FLAT COLOUR IN MULVIE'S WORK ARE REPLICATED BEAUTIFULLY IN THIS GORGEOUS EYE CATCHING PRINT - YOU CAN'T HELP BUT BE SWEPT AWAY TO SUMMER AT THE SEASIDE.