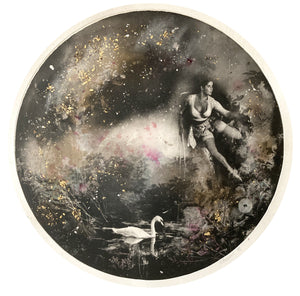 Moonstruck
Hand painted Photopolymer etching with silver leaf on Somerset Satin 300 gsm Paper
65 cm x 65 cm
Edition of 5 +2 AP's
Mounted 1/5

UNFRAMED, this is a mounted print, so shipping will be charged.
Rosie Emerson is a multidisciplinary printmaker working almost exclusively on representing the female form, elevating her subjects to a goddess-like status. Inspired by her love of theatre, performance, shrines and rituals, she uses dramatic lighting, hand-made costumes, set and prop making, alongside printmaking and painting to create works which play between the familiar and the otherworldly.