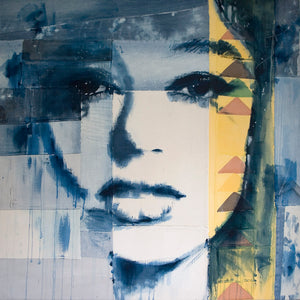 Original painting with collaged on a mixed media panel.
Rise
Canvas size 100 x 100 cm
Framed size 106 x 106 cm
Tray framed in white.
Mixed media on vintage fabric wrapped canvas
Orientation: Square
Notes: Antique American Quilt and denim
MUSE: Damaris Goddrie
Pam Glew, co-curator of Paxton + Glew, is a mixed media painter and printmaker. She has shown internationally in solo shows from London to Sydney and has exhibited at Dallas Contemporary and Honolulu Museum of Art. Pam has produced commissions for Armani, MTV, and Microsoft and her work is housed at Saatchi & Saatchi London, Mitsubishi Bank, and in collections worldwide.