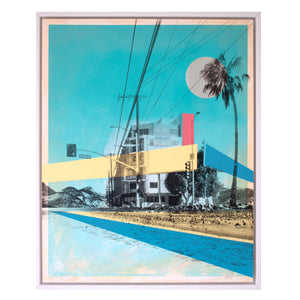 On the Corner by Anil Mistry.
Anil says "Two sides of L.A. From the imposing yet attractive building on the corner of Ingelwood and Culver blvd to the heat of the sunbathers on Santa Monica beach. I loved assembling this unusal juxtaposition to make a piece that has edge and beauty combined."
Original photography screen printed and collaged onto acrylic and spray painted 8mm plywood boards. 
Size: 40cm x 50cm.