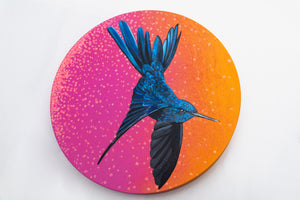 Irisdecent Series
Acrylic, Irisdecent medium and fine glitter on wood
20x20cm
 Louise McNaught completed her Fine Art Degree BSc (Hons) in 2012 at the University of Greenwich, and she has continued to work as a professional artist ever since, with international representation.
Her artwork has also been featured in art fairs in Milan, Hong Kong, Singapore, Stockholm, Brussels and all over the UK.
Louise's depicts animals as God-like, supreme beings that deserve our respect and protection, her work does this by reflecting upon the delicate relationship between humans and nature. She highlights man's destructive tendencies when it comes to nature in her art, sometimes in controversial ways and mostly her work features endangered species. The imagery often takes on a duality of not only what is happening to the animal itself, but also reflects how we feel psychologically about the effect the human race is having on these species. Her focus on endangered species has manifested in a book called 'Survival'.