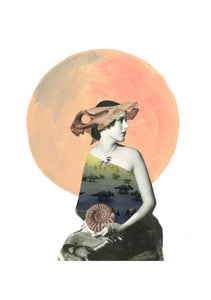 Liz Pounsett
Girl with a Shark Necklace
A1 limited edition giclee. 5/25
framed £420
The woman in the image is Aileen Pringle, taken in 1925.
Collage artist Liz Pounsett trained at Southampton College of Art and is now based in Portsmouth. She combines her own photographs with found images and pages from secondhand books to produce her colourful surreal images. Her unique and humorous collages play with scale and mix contemporary images with historical references. Pounsett has collaborated with another of our gallery artists, Dave Buonaguidi, and is in collections worldwide.