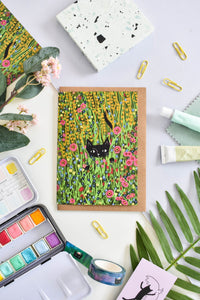 The 'Cats in Art' card is a feline interpretation of the artwork 'The Kiss' by Gustav Klimt, now reimagined as 'Klimt's Cat Garden.'
Combining a love of cats and a passion for art, illustrator and designer Nia Gould ('Niaski') has created a punny card range celebrating the life and times of artistic felines.
The card has been left blank for your own message.
Made from:
Printed on beautifully textured FSC 300gsm Accent Calisto paper.
Recycled 140gsm Brown Kraft Envelope
Dimensions:
A6 Card - 10.5 x 14.8 cm
C6 Envelope - 11.4 x 16.2 cm