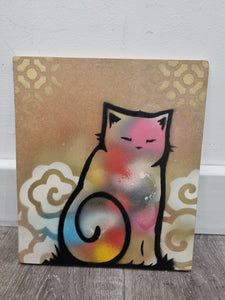 Calling all cat lovers! Let one of Brighton's legendary street artists brighten up your wall with this stylish stencilled cat with a swirling tail. The cat has a strong black outline and is spraypainted in multicoloured  dots of paint with gold against a background of Japanese-inspired cloud stencils.
This original work is signed on the back and comes with a hanging hook. 
Spray paint on plywood
Martin Middleton aka Cassette Lord is a Brighton based street artist who is renowned for his distinctive cassette stencils on the city's telephone junction boxes. Describing his style Martin says that he craves the immediacy of stencils and the colour contrast hit of spray paint. He has always loved pop art for its high contrast recycling and repetition of product advertising and culture, and draws from the retro colours and shapes of 70s and 80s graphics and interior designs. He believes that in order to combat the onslaught of consumerist propaganda, art needs to be embedded in our environment and have a dynamic punch.