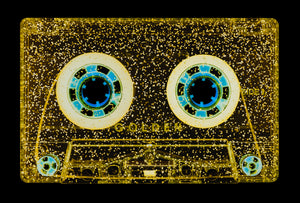 Tape Collection 'All That Glitters is Golden' - Richard Heeps.
The Heidler & Heeps collaborations are creative representations of Natasha Heidler and Richard Heeps' personal past, and their personalities. Tapes are significant in both their lives and the work here is made from their own collections. Their unique process makes these artworks not inanimate objects, rather they have depth, texture, grit, and they even appear to move.
This artwork is a limited edition gloss photographic print, dry-mounted to aluminium, presented in a museum board white window mount and a black box frame made professionally in the UK. It is signed and numbered on reverse accompanied by a certificate of authenticity. 
Richard Heeps' seductive, highly saturated colours and sophisticated pictorial structures demonstrate a true love and empathy for his subject matter - be it cool descriptive interiors, still life or landscape. His distinctive style pushes the limits of lens-based photography without the need for digital manipulation.Richard works from his home studio and dark room in Cambridge. 
Frame size 41x57cm.
Edition of 25.

Black Frame.
Photographic print.
Signed and numbered.