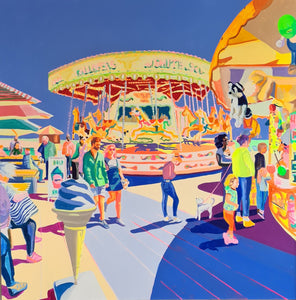 'Win a Pokemon' is painted using oil and acrylic on canvas. It is a large painting on an artist's high quality Windsor and Newton stretcher which is warp resistant.
The painting is made using large brushstrokes and the texture of the paint and brush marks are visible on the surface of the canvas. It is painted using a combination of oil and acrylic paint which gives it extreme vibrancy and shine in some areas. In some areas of the painting the oil pigment is fluorescent which gives intense strong colour.
The painting references the carousel and food and drink stands on Brighton seafront in the UK. I've had a love of places of pleasure for as long as I can remember - sometimes real and sometimes imagined. I wish to take something partly familiar and imbue it with humour, colour and joy. I try to create places I would like to go or remind me of places I may have been in dreams or visit in my childhood. The small details I discovered when I was pouring over the photographs I had taken such as the girl in the centre stage of the painting holding the teddy that had been won and the brightly coloured Pokemon toys to the right hand side that the children eagerly lean up to see captured my imagination.  Painting is my medium to explore fantasy and imagination.
This stunning original is newly in the gallery and is a real head turner. With Ruth's intense colour palette and pop art references this painting reflects the vibrancy of Brighton beach front. Spot the Pokemon!
DIMENSIONS

Oil and acrylic on deep edge cotton canvas

120cm x 120cm (47" x 47")

5cm deep (2") block canvas

Ready to hang.